Events and Rentals at North Shore Day Camp in Long Island
Events at North Shore Day Camp
North Shore Day Camp, located on 14 pristine Gold Coast acres overlooking the Long Island Sound in Glen Cove, New York, is the ideal location to host an exceptional event!
Formerly a private estate, North Shore is the perfect site for company picnics, corporate retreats, birthday parties, anniversary parties, bar or bat mitzvahs, Sweet Sixteens, religious and civic organization events, family reunions, school events, team building exercises and other special occasions. Here your guests can enjoy our full catering services while taking advantage of our wide array of indoor & outdoor facilities.
Upon request we can provide you with tents, face painters, magicians, carnival booths, inflatables, arts and crafts, cooking parties and almost anything you can think of. Let our party planning experts personalize your event activities and menu to make your day exactly the way you'd like it to be.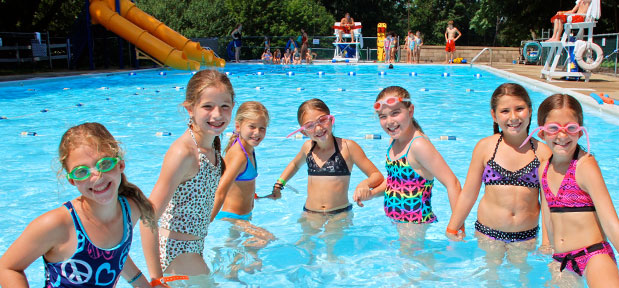 Our staff is comprised of lifeguards with American Red Cross certifications in CPR and First Aid, general staff, maintenance staff and a team of managers who go above and beyond to ensure that every detail of your party is done right. North Shore Day Camp is centrally located on Long Island and is easily accessible from all parts of Nassau, Suffolk, New Jersey, Connecticut, Manhattan and the five boroughs. We offer onsite parking and are close to the LIRR.
Indoor Facilities
2240 sq foot Indoor Rec Hall w/ Stage
Game Room
Outdoor Facilities
3 Playgrounds
Shaded Picnic Area
Tented Picnic Area
Pre-School Play Village
2 Soccer Fields
Tot-Sized Soccer Field
2 Tennis Courts
Tot-Sized Tennis Court
2 Softball/Baseball Fields
Tot-Sized Softball Field
2 Sand Volleyball Courts
4 Heated Pools
2 Basketball Courts/Tot-Sized Basketball Court
4 GaGa Courts
9-hole Miniature Golf Course
Golf Driving Cages
High Ropes Adventure Course
Climbing Tower
Activities
Arts and Crafts
Face Painters
Magicians
Carnival Booths
Inflatables
Cooking Parties
The only limit is your imagination!