Resident Camps
Positions at Resident Camps
General Counselors
We place 2-3 General Counselors and 1-2 Specialty Counselors in each camper cabin. As a General Counselor, you are fully involved in all aspects of your campers' day. You will not only sleep in the cabin (we call them "bunks") with your campers, but you will spend each day participating in general camp activities –- from meals to sports activities and just hanging out during the downtime.
Specialty Counselors
Our Specialty Counselors also live in the bunk with the campers and have general bunk responsibilities. It is very important to understand that every staff member is first and foremost a General Counselor, and serves as a role model for their campers. However, once the daily activities begin each morning, Specialists report to their area of Specialty. Applicants must demonstrate a strong aptitude in their Specialty area and must have relevant experience teaching/coaching children.
Athletic & Fitness Specialists: Basketball, Tennis, Roller Hockey, Baseball, Softball, Lacrosse, Golf, Gymnastics, Soccer
Waterfront: Swimming – WSI's & Lifeguards, Boating and Waterskiing
Adventure: Rock Climbing, High & Low Ropes, Mountain Biking, and Camping
Creative Arts: Theater, Dance. Music, Photography, Culinary Arts, Candlemaking, Ceramics, Macrame, Painting, Jewelry Making, Woodshop, Costume Design, Knitting and Crocheting
Communication, Design & Technology: Television, Film, Radio Broadcasting, Digital Design, Robotics, Computer Programming, 3D Design and Printing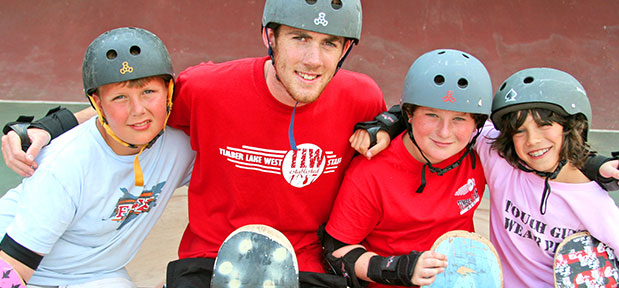 Specialty Area Director
Specialty Area Directors lead, teach, supervise and ensure the overall safety of their Specialty area. Applicants must demonstrate significant experience teaching/coaching in the Specialty area, as well as the ability to train and supervise a group of assistants.
Supervisory Staff
Assistant Head Counselors, Division Leaders, Group Leaders, Program Director, Athletic Director.
Support Services
Food Service, Maintenance, Office, Laundry, Housekeeping, Driver and Security.
Benefits
The camp experience is valuable to both campers and staff. It is one of those experiences that sticks with you throughout your lifetime. It's a place where staff make new friends, learn about themselves, confirm or determine career paths, and in some cases, meet their future spouses. The TLC Family of Camps are special places where your efforts, energy and enthusiasm have tangible effects on the children you care for.
Additionally, The TLC Family of Camps has developed a comprehensive evaluation and bonus program. Based on job performance, bunk counselors can earn up to an additional $500 in bonuses. A Travel Allowance of $250 is also available to all North American staff who have completed their Freshmen year in college, live in a bunk, and are traveling more than 350 miles each way to camp.
Staff Payscale
School Year Completed
Salary
Travel
Allowance
Potential
Max Bonus
Total Potential
Salary
College Students
$2,250
$250
$600
$3,100
Group Leaders
$2,450
$250
$600
$3,200
*Canadian Staff are entitled to an additional $350 which covers the Visa and additional charges.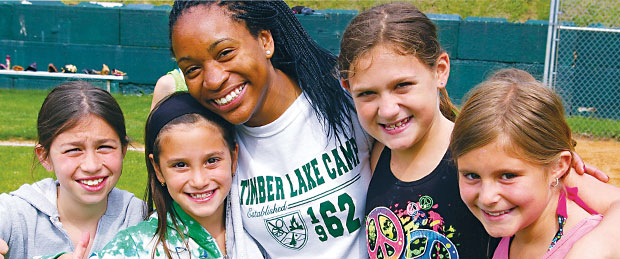 Day Off/Time Off
General Counselors and Specialists are given 6 days off during the summer. Days off start after the first week of camp and there are no days off during the last week. Days off begin after you are relieved from duty the night before your day off is scheduled for.
In addition, on days off, we do our best to reasonably accommodate staff needs for rides into and from town. Information regarding camp transportation will be provided when you get to camp.
Time Off & On-Duty
On most days, counselors receive one period off during the day and evenings off after the Evening Activity is finished. Two nights per week and two additional Saturday nights per summer, every counselor must take an OD (on-duty) shift watching his/her bunk at.
During time off, counselors and other staff may use camp facilities as long as that use does not interfere with ongoing activities.
Work at Camp
If you're interested in becoming a staff member at one of our residential summer camps, please complete our online staff application(s). You can also call us at 1-800-828-CAMP for more information.
Staff Application Forms: