Facility Rentals at Timber Lake Camp in New York
Located in New York's beautiful Catskill Mountains, Timber Lake Camp includes 500 secluded acres and is only 2 1/2 hours North of New York City. Timber Lake features an outstanding array of amenities, facilities and lodging. We can assure you that your event will be planned to perfection with our hospitality team who will make sure that your event is second to none! Our property can be customized for any event experience for your family reunion, corporate retreat, sports camp, wedding, musical festival, Bar/Bat Mitzvah, religious group, school program, team-building workshop and much, much more! Check out our full list of facilities and amenities below.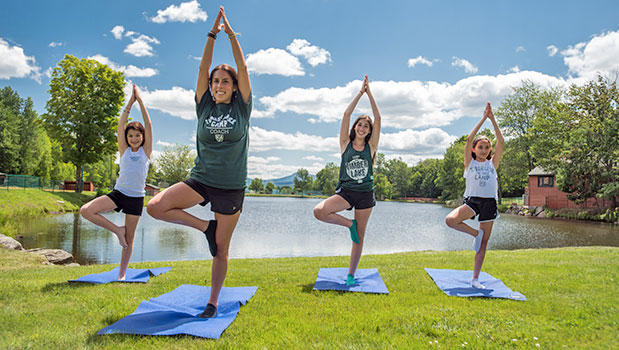 We are excited to work with you in creating a one-of-a-kind event that meets all of your needs – contact us by calling 1.800.828.CAMP or via email at groups@timberlakecamp.com and we will be in touch to help make your next event an absolute success!
Campus Facilities
Welcome Center
Rustic, climate-controlled bunks
Air-Conditioned Health Center
Dining Hall
Canteen & Game Room
2 Movie Theaters
Athletic & Fitness Facilities
Timber Dome – Indoor Athletics Facility
9 Tennis Courts
5 Basketball Courts
5 Baseball/Softball Fields, including 480-seat Tiger Stadium
3 Hockey Rinks
3 Soccer Fields
2 Volleyball Courts
Lacrosse Field
Gymnastics Pavilion
Yoga & Zumba Studio
Fitness Center with Weights & Cardio Equipment
Spin Studio
The Links at Saddle Mountain – 4-hole USGA Accredited Golf Course, Driving Range, & Practice Green
Waterfront & Adventure Facilities
2 Private, Spring Fed Lakes
Outdoor, Heated Pool
225 ft. Water Slide
Water Trampoline
Kayaks, Canoes, Stand-up Paddle boards ("SUP"), and Rowboats
4-Sided Climbing Wall
High & Low Ropes Course
250 ft. Zip Line
On-site Mountain Biking Trails
Tree-Top Village – Overnight Camping & Hiking
Creative Art Facilities
Timber Lake Playhouse & Stage
Dance Studio
Music Studio
The Catskill Culinary Center
Woodworking Shop
Ceramic Studio
Fine Arts Center